#GOVERNANCE
The Unidas Women's Network is controlled by the chairwoman of Unidas and an advisory board, which currently consists of 12 women from Latin America and the Caribbean and 12 women from Germany who advice Unidas on strategic issues. The day-to-day tasks of the Network are undertaken by the Deutsche Gesellschaft für Internationale Zusammenarbeit (GIZ) as the coordinating body.
#NODAL POINTS
The Unidas Women's Network bundles its activities in thematic or national groups coordinated by Nodal Points. Nodal Points are particularly committed members, mostly from countries with a large active membership base. In an honorary capacity, they support the communication and the exchange of information between members and thematic or regional groups of the network, organize activities and coordinate group meetings.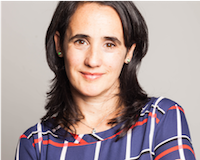 Natalia Gherardi is an Argentine lawyer who holds a degree from the University of Buenos Aires. She has been CEO of ELA – Equipo Latinoamericano de Justicia y Género – since 2007. She also teaches at the University of Buenos Aires, the Universidad Nacional de Lanús and the Universidad Nacional de la Plata and has published on the topics of work, care policy, sexual and reproductive rights, and violence against women.
Andrea Dip is director and editor at Agência Pública of Investigative Journalism in Brazil. Founded in 2011 by women reporters, Pública is the first nonprofit investigative journalism agency in Brazil. Andrea has worked with journalism focused on human rights since 2001 and received 13 journalism awards for Human Rights coverages. In 2018, she published her first book "Em nome de quem? A bancada evangélica e seu projeto de poder" (In whose name? The Evangelical Political Bench and Its Power Project). Maintains a weekly column at UOL and researches gender, politics and the advancement of religious fundamentalism in Latin America. Andrea Dip is also a Cosecha Roja fellow editor in Narrative, Gender, Violence and Youth.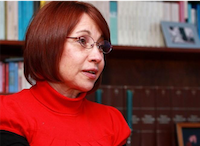 Olga Amparo Sánchez is researcher, social worker and feminist activist, with advanced training in Population Studies and Senior State Management. Experience in university teaching in the areas of research, public policy and social development. Author of research, essays and articles related to women's rights, peace and militarism. National Director for Women's Equity, 1995-1998. Colombian Government Delegate to the Inter-American Commission of Women, OAS, Washington. Delegate of the Colombian Government to the UNESCO meeting on the human genome, Paris. Delegate of the Colombian Government to the meeting of the Andean Parliament, Venezuela. Vice-President of the National Planning Council, 1994-1995.
Rita María García Morris is executive Director of the Christian Center for Reflection and Dialogue Cuba. It is an organization of Christian principles. Promotes spirituality, human dignity, and conflict resolution. She has a Bachelor's Degree in Humanities and a Master's Degree in Business Administration. She is also a Presbyterian Ruler of the Reformed Presbyterian Reformed Church of Cardenas.
Cecilia Mena holds a Master in Social Policy from the Universidad Javeriana de Bogotá -Colombia; she has a Specialization in Gender, Globalization and Development from the Faculty of Social Sciences, Ecuador - FLACSO, and a Diploma in Urban Violence and Insecurity from a Gender Approach from the Center for Urban and Regional Studies of Rosario -Argentina. She has been Ministerial Advisor on Human Rights, consultant on Gender, Public Policy, Human Rights and Sustainable Development in public, private and international cooperation institutions.  She is a university professor and part of the women's and feminist movement in Ecuador.
Sonia Acabal is a human rights defender and part of the Red de la No Violencia contra las Mujeres RED-NOVI, a collective of women's rights organizations in Guatemala. The Network was founded following the murder of activist Dinora Perez on April 29, 1991. The Network develops programs and promotes the strengthening of coordination among the different women's rights organizations.
I'm a German diplomat in Mexico. For the initial phase, the German embassy in Mexico I would like to participate and activate the potential of this women's network, that's why I am happy to be the Nodal Point for you in Mexico. I work in the political section of the embassy and came to Mexico in 2018. I am delighted to be part of this network.
Mayra is a Zapotec lawyer from the Isthmus of Tehuantepec, with a law degree from the Law School of the National Autonomous University of Mexico (UNAM) and a master's degree in Public Policy and Gender from the Latin American Faculty of Social Sciences (FLACSO Mexico). She is currently coordinator of Advocacy and Transparency in the Right to Information Program of the organization Article 19 Office for Mexico and Central America. She has been working for more than 12 years accompanying victims of human rights violations in civil society organizations. She has also been an independent consultant on issues related to human rights, violence against women, rights of indigenous peoples and communities, public security and access to justice for various national and international organizations, and advisor to the federal congress. In addition, she has taught several workshops, courses and diploma courses on human rights, gender and justice, as well as indigenous peoples' rights to both the open population and governmental agencies in various parts of the country.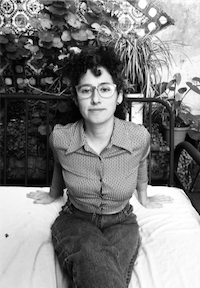 Florencia Pagola is a writer and freelance journalist. Degree in Communication Sciences (FIC/UDELAR). She has collaborated with numerous digital media and human rights organizations in Latin America. Currently with La diaria and Pikara Magazine, formerly with Distintas Latitudes. She specializes in human rights, gender and feminism agenda; and in narrative journalism and chronicles. Participated in journalism workshops with Leila Guerriero and Marcela Turati. Coordinates the independent media Kaja Negra.
Johanna Pieper is a German-Peruvian Research Fellow and Doctoral Researcher in Political Science at the GIGA Institute for Latin American Studies in Hamburg. At the GIGA Institute, Johanna is part of a research team working on implemented policies on violence against women, particularly in the domestic sphere, during the context of the COVID-19 pandemic in Latin America. Her other research areas include policy efforts on child labor and social protection mechanisms for children and informal workers in Latin America.